Bizarre creatures, terrifying visions of the past and heart pounding horrors torment visitors brave enough to enter. Historically themed and extraordinarily scary, The Nevermore Haunt is unlike any haunted house you've ever seen!
Featuring Sideshow performances including magic, strongman and fortune tellers, free on-site parking, concession and outdoor bar.
Doors open at 7:00pm each night, we stop selling tickets at 10:00pm or 11:00pm depending on the night, check our calendar for details. You may arrive anytime within that window. You must be on site and checked-in at our ticket booth or check-in booth (if you purchased your tickets in advance) before the closing time. As long as you are checked-in, you are guaranteed to enter the event.
***If you purchase tickets online be sure to see the check-in booth before getting in line to get your wrist band***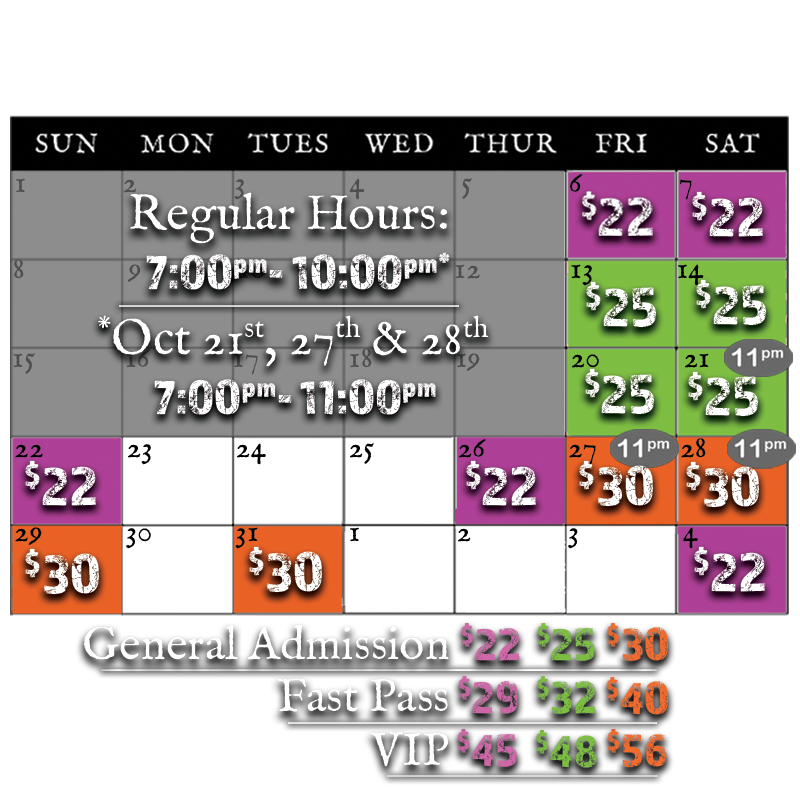 General Admission: General admission to The Nevermore Haunt attraction
Fast-Pass Admission: Skip to the front of the line with Fast Pass Admission, available on select nights
VIP Admission: Includes fast-pass admission as well as one drink and food voucher from our on-site bar and food vendor, available on select nights
Isaacs Maleficent Side Show (not a separate ticket type, just a free side event): Front-of-house entertainment includes a nightly rotating selection of amazing sideshow performers. Blockhead feats, fortune-telling, and magic!
Group rates are available (10+, pre-purchase required); Contact Us for more details
All sales are final – no refunds
WARNING!
The Nevermore Haunt haunted house is not for the faint of heart. Children under 4 feet tall will not be admitted, and children under 16 may enter only with an adult guardian (18 or older). Read the rules and warnings before purchasing your ticket. All sales are final.